TRO MultiPair MetaTrader Indicator | FREE Forex Trading Indicator
TRO MultiPair is a MetaTrader indicator that is built from several custom indicators included in the package. This indicator can display trend directions for multiple currency pairs and all MetaTrader timeframes at the same time. The indicator is displayed in a separate chart window. The indicator's legend is shown on the right side of the chart. Simply by looking at this indicator, you can decide where to go short and where to go long. It makes no difference which currency pair or timeframe you use with this indicator. It will display everything that has been configured in its input parameters. TRO MultiPair is a resource-intensive indicator that should be disabled.
Input parameters
pairs (default = GBPUSD;EURUSD;USDCHF;USDJPY) — currency pairs for which to display this indicator. Just list them with a semicolon as separator.
timeFrames (default = M1;M5;M15;M30;H1;H4;D1;W1;MN) — timeframes for which to display the indicator. Just list them with a semicolon as separator.
myAlert (default = false) — if true then alerts are used.
ShowLegend (default = true) — if true then the legend is displayed.
ShowCount (default = true) — if true then the count of the trend directions by timeframes is displayed.
Other parameters — change various visual settings.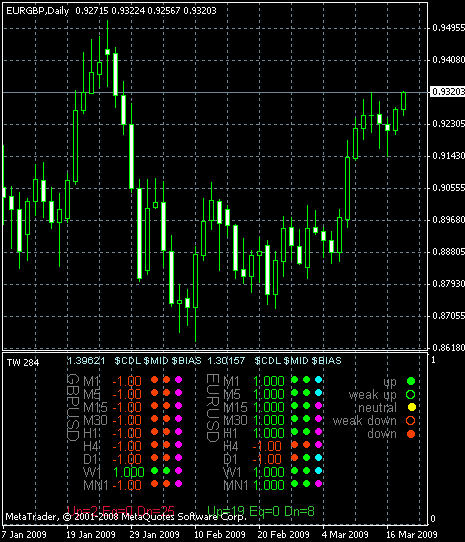 Trading with this indicator is simple. As you can see from the legend, there are weak, strong, and neutral signals. You can create your own strategy using this indicator, but I recommend only entering trades when all timeframes for a given currency pair point in the same direction and there are no weak or neutral signals. When the signals that you used to enter are in the minority, exit positions.
Downloads
The latest version of this indicator's full code can be found at www.kreslik.com.