Trade Assistant MetaTrader indicator | FREE Forex Trading Indicator
MetaTrader indicator Trade Assistant is a multi-timeframe indicator based on three standard indicators: Stochastic, RSI (Relative Strength Index), and CCI (Commodity Channel Index). It shows the current trend directions for the M5, M15, M30, H1, H4, and D1 indicators. When you use an indicator like this, you get a clear picture of the trends in all important timeframes. It makes no difference to which timeframe chart you apply this indicator to. It's also not a good idea to change any of the input parameters. The indicator is available for both MT4 and MT5.
Input parameters:
PercentK (default = 8) — period in bars for calculation of the line %K of Stochastic indicator.
PercentD (default = 3) — period in bars for calculation of the line %D of Stochastic indicator.
Slowing (default = 3) — the value for slowing of Stochastic indicator.
RSIP1 (default = 14) — period for the first RSI (fast).
RSIP2 (default = 70) — period for the second RSI (slow).
Other parameters — represent the symbol codes for the trend direction arrows. Better leave them alone.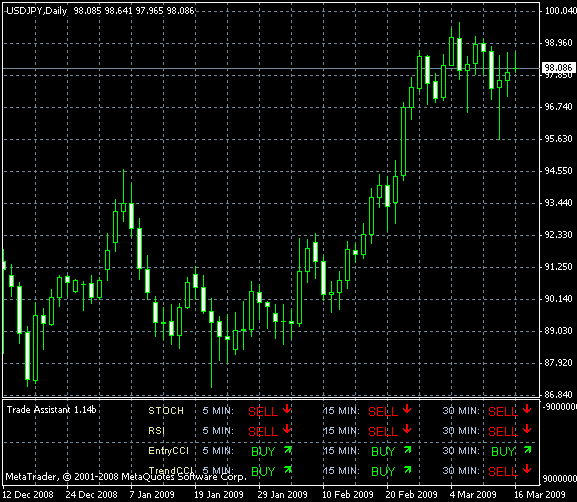 Although it is obvious how to use such an indicator, I recommend buying and selling only when all indicators in your timeframe and both neighbouring timeframes signal the same direction. For example, only go long in the M30 timeframe if all indicators in the M15 and H1 timeframes say BUY.
Downloads:
Trade Assistant for MetaTrader 4 in .zip
Trade Assistant for MetaTrader 4 in .mq4
Trade Assistant for MetaTrader 5 in .zip
Trade Assistant for MetaTrader 5 in .mq5