The PSAR Multi-Timeframe (MTF) Indicator | FREE Forex Trading Indicator
PSAR, also known as Parabolic SAR, is a well-known technical indicator. With MT4 PSAR Multi-Timeframe (MTF), you can see the indicator's status across multiple timeframes in a single table. This is useful when you want to get a better sense of the overall price situation.
What Is MT4 PSAR Multi-Timeframe Indicator?
PSAR Multi-Timeframe is a great indicator to see the overall trend of a currency pair or any other instrument.
With this indicator, you can see on one chart the status of the Parabolic SAR across all selected timeframes.
The indicator features a simple table where a prevailing PSAR trend is shown for each timeframe.
In the chart, you can also see whether the PSAR is currently gaining or losing momentum on all timeframes.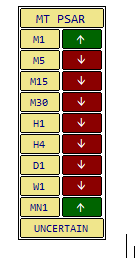 Why Is MT4 PSAR Multi-Timeframe Useful?
When you check Parabolic SAR of the price in MetaTrader, you usually see it in a specific timeframe.
It is almost always useful to see what is its status across different timeframes in order to have a better understanding of the situation.
If, for example, you check the trend in an H1 chart, it can seem to be in an uptrend. However, checking the same pair on a D1 chart, it would show a downtrend.
PSAR Multi-Timeframe (MTF) for MetaTrader 4 allows you to see the PSAR status across all timeframes in a single place.
You can simplify your visual representation and know if an asset or a pair is overall trending up or trending down.
You can use this indicator to improve your entry and exit signal decisions.
The indicator also includes a feature to alert you if the trend changes.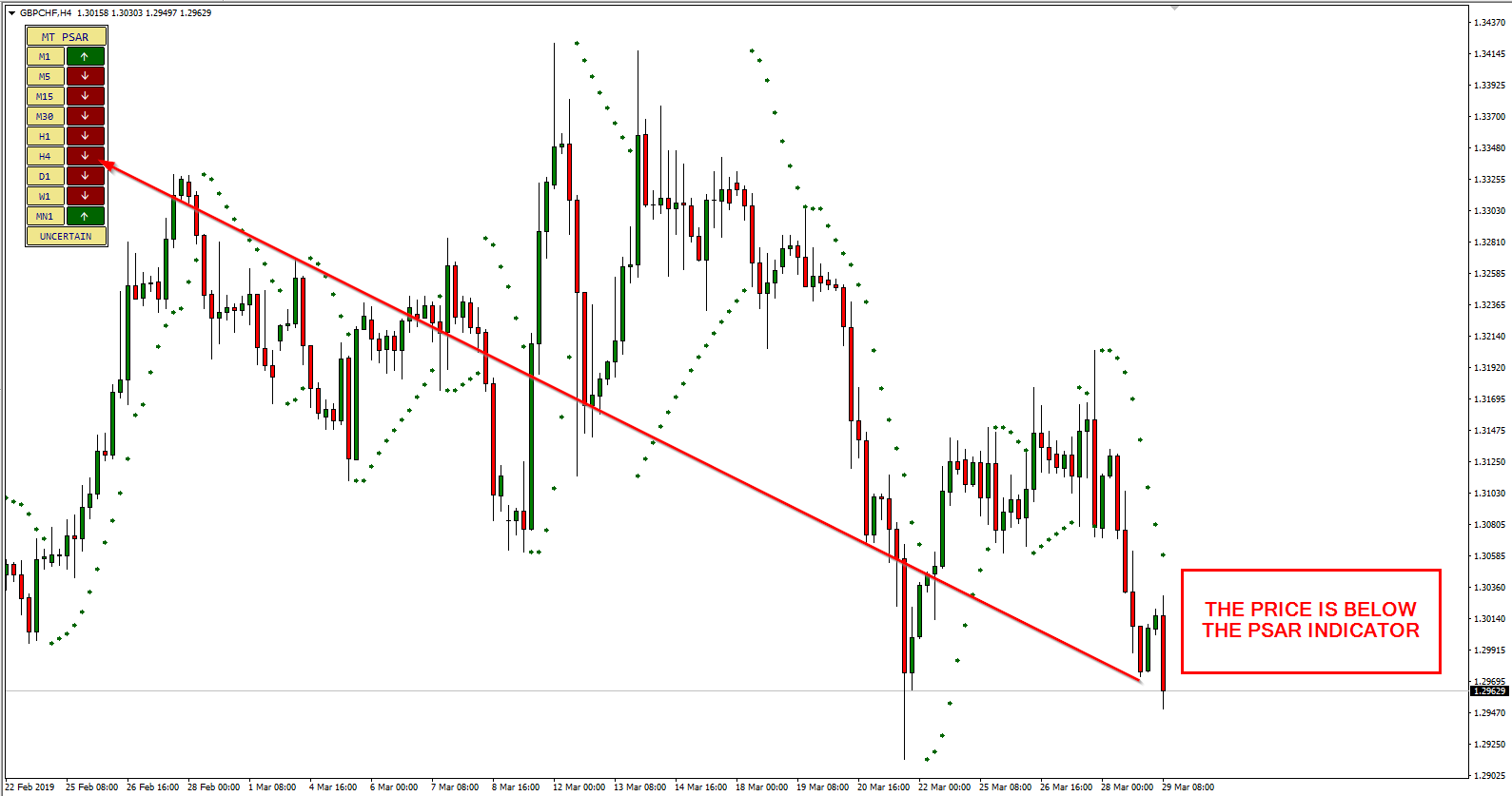 Download PSAR Multi-Timeframe Indicator for MetaTrader
How to Download MT4 PSAR Multi-Timeframe Indicator?
You can download for free MT4 PSAR Multi-Timeframe indicator with the link below and install it by following the provided instructions.
The installation is very easy to perform, so is the use.
Once you run the indicator, you can set Parabolic SAR parameters, select timeframes, and configure alerts via its input parameters.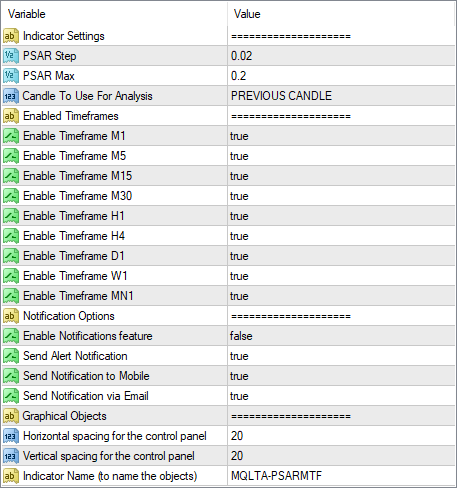 ➥ Download MQLTA MT4 PSAR Multi-Timeframe
MT4 Indicator Installation Instructions
To install the MT4 PSAR Multi-Timeframe indicator, please follow the instructions below:
Download the indicator archive file.
Open the MetaTrader 4 data folder (via File→Open Data Folder).
Open the MQL4 Folder.
Copy all the folders from the archive directly to the MQL4 folder.
Restart MetaTrader 4 or refresh the indicators list by right-clicking the Navigator subwindow of the platform and choosing Refresh.