Moving Average Candlesticks MetaTrader indicator | FREE Forex Trading Indicator
Candlesticks with Moving Averages MetaTrader indicator — is a chart representation of standard moving averages using candlestick bars. It generates candlesticks using moving average values calculated for Close, Open, Low, and High. When compared to the classic MA indicator, it provides a more compact snapshot of more detailed market information. It is compatible with all currency pairs, timeframes, and MA modes. Available for MetaTrader 4 and MetaTrader 5.
Input parameters:
MAPeriod (default = 10) — the period of the Moving Average used in calculations.
MAType (default = 0 (SMA)) — the method of the Moving Average.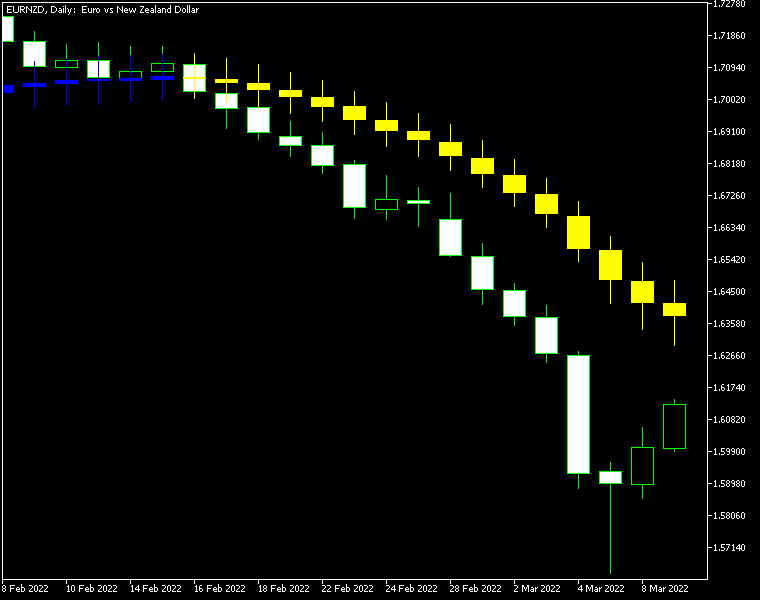 This indicator is not suitable for use in direct trading. It simply shows the moving average cross as well as some other chart parameters. By observing the candlestick body length and shadow lengths, you can spot irregularities in price behaviour. Its colour change may appear to be a good entry signal, but it also produces a lot of false signals.
Downloads:
Moving Average Candlesticks for MetaTrader 4 in .zip
Moving Average Candlesticks for MetaTrader 4 in .mq4
Moving Average Candlesticks for MetaTrader 5 in .zip
Moving Average Candlesticks for MetaTrader 5 in .mq5